HEADLINES
Board Election Results


01/24/2015




Congratulations to Jesse Boulerice and Dan Hollis who were elected...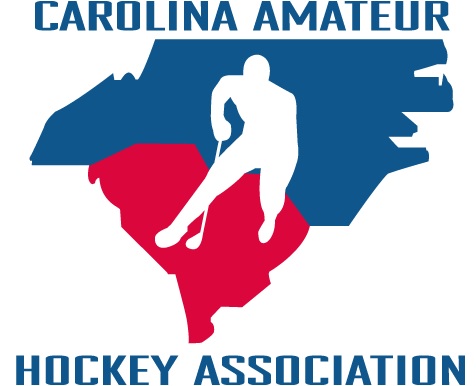 2015 CAHA Boys Prospects Tryouts



The 2015 Boys Prospect Tryouts are scheduled for April 10-12, 2015 at the Extreme Ice Center located in Indian Trail, North Carolina.

Tryouts are open to all male U.S. citizens born in 1998, 1999, 2000 and 2001. All players must be legal residents of North or South Carolina to participate.

1998, 1999 and 2000 players selected during the Affiliate tryouts will advance to the Southeastern District National Camp Tryout. The Southeastern District National Camp Tryout selects players to attend the USA Hockey National Camps and Festivals held during the summer. Twenty (20) 2001 birth year players, 2 Goalies, 12 Forwards and 6 Defensemen, will be selected from the Affiliate tryout to advance to the Southeastern District 14 Camp held annually during the summer.

2001 Birth Year

Early bird registration opens February 1st, 2015. The cost for 2001 birth year boys will be $120.00. Early bird registration will close on March 15, 2015. On March 16, 2015 registration will reopen at cost of $145.00. Registration officially closes April 3, 2015. There will be NO WALK UPS!!

2001 Early Bird Registration: CLICK HERE TO REGISTER

1998, 1999, 2000 Birth Years

Early bird registration opens February 1st, 2015. The cost for 1998, 1999, 2000 birth year boys will be $80.00. Early bird registration will close on March 15, 2015. On March 16, 2015 registration will reopen at cost of $105.00. Registration officially closes April 3, 2015. There will be NO WALK UPS!!

1998, 1999, 2000 Early Bird Registration: CLICK HERE TO REGISTER

If you require any further information please do not hesitate to contact:

Steve McKirdy
Carolina Amateur Hockey Association
Youth Committee Chair
Director of Player Development
704-320-5496
cahastevem@yahoo.com
The Junior Hurricanes are proud to announce two scholarship opportunities for current Junior Hurricanes players. These scholarship awards are open to all current Junior Hurricanes high school juniors and seniors who have demonstrated academic and athletic excellence, as well as the core values of the Junior Hurricanes.
The Culotta Memorial Scholar-Athlete Award. The award is named in honor of Coach Buzz Culotta. Buzz, who died much too early at the age of 49 in 2014, coached in RYHA for eight years. He had an unsurpassed passion for the game and devotion to his players. But, he also had a passion for education and always encouraged his players to pursue academic excellence just as they had pursued excellence on the ice. This award is given by Buzz's family and friends in his honor.
The Junior Hurricanes Scholar-Athlete Award. This scholarship is offered by the Junior Hurricanes organization to a deserving Junior Hurricane player.
For full information on the award criteria and application process, please visit the following links:
Culotta Scholar-Athlete Award Page
Parents, players and coaches are welcome to nominate players. Applications and supporting documentation are due no later than Feb 28, 2015.
Congratulations to Jesse Boulerice and Dan Hollis who were elected to the Board of Directors. Jesse and Dan will begin to work with the existing Board until their terms officially begin June 1, 2015. Thanks to Brett Wagner for his interest in the Board and to all who participated in this years election process.
The Junior Hurricanes are now accepting Head Coaching applications for the 2015-16 season. The application can be found under the "Registration" button on the main page of the website.
Please submit your application by midnight of Jan 31st if you are interested in a Head Coaching position for the upcoming season. Coaches will be notified by email that their applications have been received and accepted. All applicants for Head Coaching positions will be interviewed prior to final selections being made. All applicants for Head Coaching positions will be notified of the final selections.
Typically, we do not pre-select assistant coaches at this time. We allow the Head Coaches to select their assistants once teams are formed. However, if you would like to submit an application for an assistant position, we will forward those to the Head Coaches once the teams formed.
Most years, hurricane season ends in the beginning of November, but the Squirt Minor 05 Jr. Canes decided to extend it straight on through the holidays by "storming" into Pittsburgh and Nashville over the Thanksgiving and New Year's holidays, winning a championship in each city.
The Steel City Thanksgiving Classic was the first away tournament for these first year travel players. The schedule showed games against the local Pittsburgh 2005 birth year team and three Canadian 2004 birth year teams. The year difference would be a challenge, but one the kids were excited about. The opening game against the Woolwich Wildcats was a tight affair into the third. With the Jr. Canes down 2-1, a penalty against in the last two minutes seemed to have sunk their chances, but a clutch shorthanded goal by John Marshall Duffy in the last minute secured a 2-2 tie. The momentum and confidence gained showed into the next three games, winning them all, while outscoring their opponents 16-2. Finishing pool play 3-0-1 earned them a spot in the Championship Game and a rematch with Woolwich. Woolwich started quickly outshooting the Jr. Canes 12-2 in the first. Goalie Ryan Kalina was equal to the task, turning away all shooters until the Jr. Canes struck midway through the second. John Marshall Duffy, once again, ignited his team breaking through for the first goal. Conner de Haro and Cole Latzy led the defense allowing only 3 shots through the last two periods and dominated the rest of the way to a 3-0 win, their third shutout in a row. Duffy finished with 2 goals and an assist, having a hand in all the scoring. Not bad for a bunch of "Yankee Midgets", as one Canadian parent had labelled them earlier.
The Bauer Music City Invitational was the team's next tournament challenge. This tournament was a birth year tournament and again the team was faced with a tough opening opponent. Florida Alliance is a team comprised of the top kids from various programs throughout Florida and highly rated within the "MyHockey" rankings. Falling behind 2-0 in the early going, the team battled back to take 3-2 lead, but ultimately fell 4-3 in the end. Even though not a win, this first game strengthened the teams' resolve and belief that they belonged with the best teams in the nation. The next three games proved to be dominating performances, outscoring opponents 32-4, gaining them a rematch with Florida Alliance in the championship game. Florida struck quickly and pulled to a 4-2 lead though two periods. After power play goal early in the third made it 5-2, it seemed the Jr Canes would not avenge their earlier loss. Little did anybody know "The Music City Miracle" was about to unfold. Zach Veilleux started the march back scoring a goal with 6:00 left. With his team still needing a last second spark, Kayden Wolitski jumped into a phone booth and donned his Superman cape. He scored with 3:23 remaining and again 59 seconds later tying the game at 5, prompting bedlam in the stands, and an unusual goalie change by Florida. Sticking with the hot hand, Coach Barron stuck with the same line, and it paid off 42 second later as Kayden scored the game winner capping one of the most improbable 6-5 comeback wins anybody will see. In a matter of 1 minute 43 seconds, Wolitski scored a natural hat trick, earned the game MVP, and provided a wonderful memory for every person in attendance.
The Jr. Canes have participated in three tournaments this season, and have come away championship in each. Southern hockey is alive and well, and these boys continue to impress.
The U10 Junior Hurricanes won three straight games on their way to the U10B division championship vs. The Richmond Generals at the annual Crabtown Showdown in Laurel, Maryland.
The Junior Canes surged in the first two periods of the championship game outscoring their opponents 3-1. Not giving up without a fight, the Richmond Generals scored two in the third period to tie the game in regulation. What followed was a novel overtime format that had everyone on the edge of their seats. First we went to 4v4 for 4 minutes. No score. We then went to 3v3 for three minutes. No score. In a first for our team we then went to 2v2 for two minutes. Still no score. During the 2v2 we survived a penalty kill resulting from a tripping penalty. It came down to a 1v1 for one minute. With about 30 seconds remaining in the 1v1 our hero, Drew Briganti, roofed a shot over the opposing goalie. Photo-finish!
The boys played with passion, sportsmanship and hard work and were rewarded for their efforts with a championship! Congratulations.